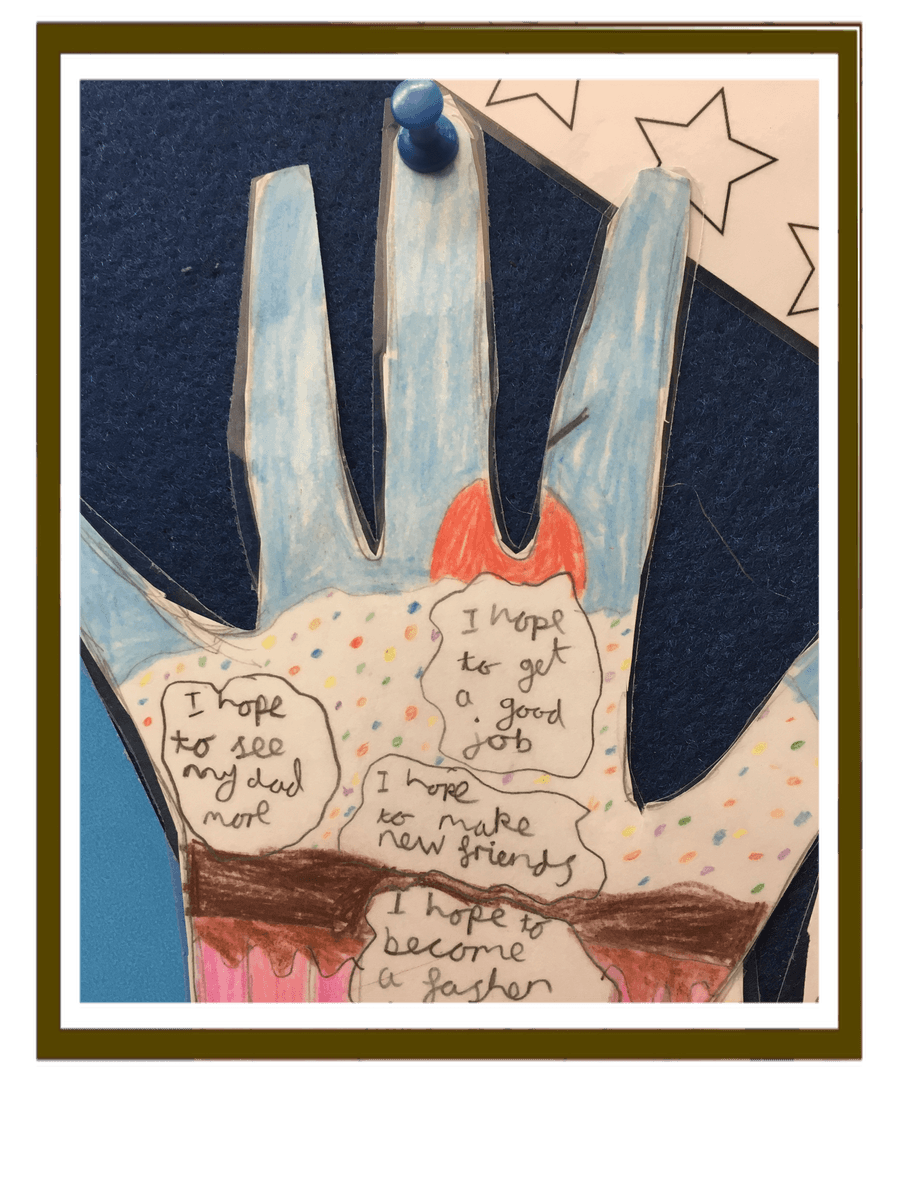 Church School Distinctiveness
Pupils and Adults flourishing within a 'Community of Hope'
Pupils say :-
'Hope makes me feel safe and it helps us to express our feelings'
'Being a community of hope means we think about what will happen in the future'
'The Prayer of St Francis helps me to see that for any negative, there is a positive action'
'The teachers ask us if we are ok and the children think about how the adults are feeling'
'Hope helps you to believe in yourself and helps you to try hard because anything is possible'
'Our vision is about challenge and overcoming difficulties'
'We can change something. It will get better. Try try again'
Governors say :-
'As a Board of Governors, we support and challenge school leaders to be the best so that our pupils have the best education possible to reach their full potential'
'Having hope is seeing challenges as opportunities'
'Children, staff, parents and governors are working together towards the same collective aim'
Wisdom, Knowledge and Skills
Pupils say:-
'the adults help us to be the best we can be'
Governors say :-
'No one is left behind'
'Delivering a rich and varied curriculum and encouraging pupils to become rounded individuals'
'All members of the school community working together to aspire towards fostering hope, building resilience and aiming for positivity in all aspects of learning and development'
Character Development : Hope, Aspiration and Courageous Advocacy
'Make Me A Channel of Your Peace' (based on the Prayer of St Francis) is a special song for our school. It reflects hope, aspiration and courageous advocacy that we aim to 'live out' as a group of school community stakeholders.
Pupils say :-
'believe in yourself... try hard and anything is possible'
'for every negative, there is a positive action'
'we can change what happens in the future and it doesn't matter what age we are, young or old we can make a change together'
Community and Living Well Together
Our school supports the local foodbank and various charities such as MacMillan Cancer and Children in Need.
Our pupils say :-
'if we are struggling, we gets lots of help from the teachers'
'we should forgive - the adults at our school encourage this'
'don't do something that you wouldn't want to happen to you'
'try to be good to other people'
'I was nervous coming back to school, but now I feel safe and secure'
'we are happy and we work as a team'
'everyone is in it together'
Dignity & Respect
We treat everyone as we want to be treated ourselves.
The children say :-
'we include everyone'
'if you are nice, people will be nice back to you'
The Impact of Collective Worship
Our 'Pupil Worship Leaders' (a group of pupils from Years 3 - 6) impact positively on our collective worship by
ensuring that the messages in worship are followed through

organising prayer spaces in our school

helping our Collective Worship Leaders (staff) devise themes for prayer
making suggestions for worship songs and displays in and around school that reinforce the distinctive Christian character of our school
helping the staff team to evaluate worship
helping to plan a worship session at least every term in school, for sharing in St Mary's Church - bringing the community together
Our pupils were asked 'why do we have collective worship?'
to build your connection with God
to be close with God
to have respect for other people's beliefs
The Effectiveness of Religious Education
Our RE curriculum enables our pupils to acquire a rich, deep knowledge and understanding of Christian belief and practice. Pupils are challenged through the exploration of core concepts and questions. We involve the children in meaningful and informed dialogue with a range of religions and worldviews. The RE curriculum is intrinsic to the 'living out' of our school's Christian Vision in enabling all pupils and adults to flourish. The RE curriculum also contributes to British alues and spiritual, moral, social and cultural development. Central to our RE curriculum, is the study of Christianity as a living and diverse faith, focused on the teaching of Jesus and the Church.
Click here to view A Statement of Entitlement (Religious Education in Church of England Schools)
Click here to view the Agreed Syllabus for RE (Lincolnshire)
Click here to view 'Understanding Christianity'
RE lesson evalautions show that :-
'there is abundant evidence of very thoughtful questioning from the teacher to clarify and extend the children's knowledge'
'The RE lesson linked in with the vision and the Christian values, even though the pupils were learning about the Hindu Religion, since it embedded kindness, strength and wisdom'
'The children asked excellent questions'
'The lesson was based on the new RE Curriculum, aiming to develop mutual respect for different beliefs'